Indian River Lagoon Charter Fishing in Florida
About Indian River Lagoon. 
The Indian River Lagoon is North America's most diverse estuary and is a body of water where freshwater draining from the land mixes with the ocean's saltwater.  The result is an environment teeming with plant and animal life.  It varies in width from half a mile to 5 miles and averages only 3 feet in depth.  On any one day along the Indian River Lagoon, you will find people fishing, plying the waters in pleasure boats, observing the wildlife, or simply relaxing.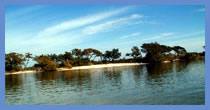 Here in this mingling of fresh and saltwater are thousands of species of plants and animals, more than in any other estuary in North America. The lagoon, therefore, is a productive and diverse waterway enabling the Inland Fishing Charter to contribute substantially to the economy of this region. 
Where is the Indian River Lagoon?
Indian River Lagoon stretches 156 miles along the East Coast of Florida. The lagoon region encompasses portions of Volusia, Brevard, Indian River, St. Lucie, Martin, and Palm Beach Counties. 
The lagoon system actually encompasses a series of shallow, interconnected lagoons, Mosquito Lagoon being one of them. 
Six small and widely spaced inlets connect the lagoon to the Atlantic Ocean.  The size of these inlets and the shallow nature of the lagoon allow for a limited exchange of waters between the lagoon and the ocean.  Within Indian River Lagoon you will find a unique and extremely diverse collection of habitats and species that occur nowhere else.
The lagoon also has one of the most diverse bird populations anywhere in America.
Nearly one-third of the nation's manatee population lives here or migrates through the Lagoon seasonally.  In addition, its ocean beaches provide one of the densest Sea Turtle nesting areas found in the Western Hemisphere.
Fish you can expect to catch with Inland Fishing Charter.
A few of the species fished in these waters are Red Drum, Spotted Sea Trout, the common Snook, and also Tarpon. 
Red Drum Fish
Spotted Sea Trout
Common Snook Fish
Tarpon Fish
Inland Fishing Charter will take you there to fish and enjoy The Indian River Lagoon premier fishing spots in Florida. Captain John is available to talk to you personally about your proposed trip. Give him a call